COVID-19 3rd Dose Pfizer Vaccine Clinic
Hosted by the Mid-West Ontario Health Team
BY APPOINTMENT ONLY. NO WALK-INS
This vaccination clinic is for people aged 70+ who reside in the Mid-West Toronto Ontario Health Team region, or are patients of:
Toronto Western Family Health Team
Women's College Family Practice Health Centre
Davenport-Perth Community Health Centre
Sinai Family Health Team
Please bring your OHIP card if you have one, or other proof of age.
Thank you for your commitment to keeping yourself, your loved ones and your community safe by receiving the COVID-19 vaccine!
At this time we are offering Pfizer-BioNTech. You may receive your 3rd dose at one of three sites. Please choose the date/time most convenient for you.
The Mid-West Ontario Health Team region is depicted in yellow below: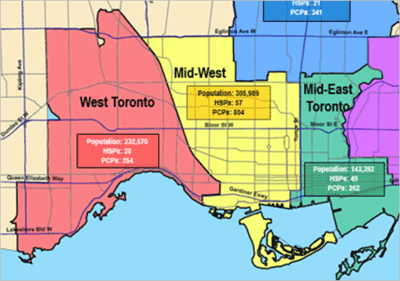 For information on the COVID-19 vaccines, please read the following - Pfizer-BioNTech, Moderna.