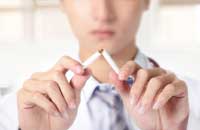 Program Details
(
Back to Programs
)
Our Family Health Team has partnered with the Ottawa Model for Smoking Cessation (OMSC) to help you with your smoking cessation needs. This program supports tobacco smokers, cannabis smokers and e-cigarette users to reduce or quit.
Smoking Cessation Counsellors provide individualized one-to-one counseling sessions. We encourage, assist, and educate patients in a supportive, non-judgmental environment.
As part of the OMSC program, we can offer our patients a free, 6-week supply of nicotine patches and gum or lozenges.

What should I expect from my appointment?
To explore the reasons why you smoke or vape
To receive clear, strong, and personalized advice to help you stop or reduce
To receive ongoing support
To learn strategies to help you avoid smoking or vaping
To learn how to use medications to help you quit if this is right for you
A personalized quit plan

How do I Register for the Smoking Cessation Program?
You must be a Toronto Western Family Health Team patient to register for this program
Speak to your health care provider
In-person, phone or virtual appointments are available

Smoking Cessation Resources