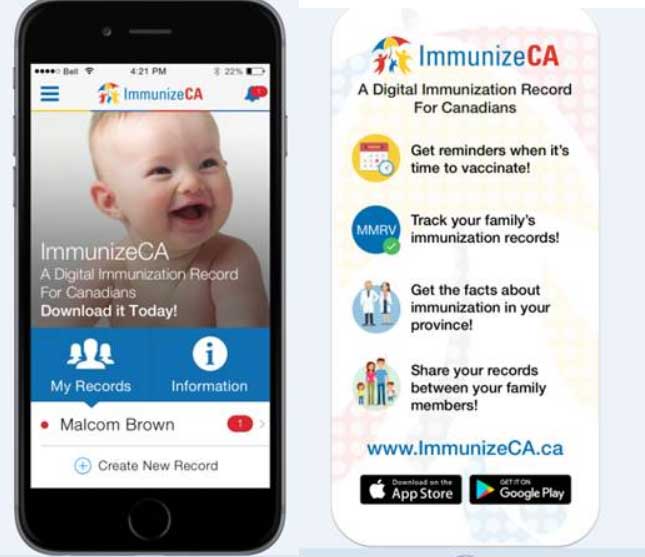 CANImmunize is a free, bilingual mobile app that can help you keep track of your or your family's immunization records.
Answers to frequently asked questions regarding immunizations and notification about vaccine preventable outbreaks in your area

Families with young children - provides appointment reminders for upcoming immunizations, access to province specific vaccine schedules, ability to share records between family members

​Pregnant women - information on the importance of immunizations during pregnancy

Older adults - annual flu shot and shingles vaccine reminders

Overseas travelers - a portable, off-line vaccination record to show proof of immunization
​The app can be downladed on iOS or Android. Immunizations must be manually recorded by the individual as well as the administration date. Notificiations are sent through the app.
CANImmunize was developed through the Ottawa Hospital Research Institute with the Canadian Public Health Association, with funding from the Public Health Agency of Canada.
Click here for more information: CANImmunize.ca
Immunizations

Look up your immunization record with Toronto Public Health:
Click here to view or submit your vaccine records
Ontario's Routine Immunization Schedule | Vaccines for Babies and Toddlers | Shingles Vaccine