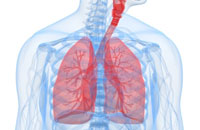 Clinic details

In lung health programs a team of health care professionals focus on Asthma, Chronic Obstructive Pulmonary Disease (COPD) and Smoking Cessation. Patients will meet with a Respiratory Therapist during one-on-one sessions, to discuss their symptoms and learn how to manage their respiratory condition. Patients suspected of having Asthma or COPD may undergo a breathing test.
What to expect
What to expect from your appointment with the Respiratory Therapist:
Your respiratory health and history will be reviewed, along with a thorough discussion of your symptoms.
Your respiratory medications (if any) will be discussed. Please bring all respiratory inhalers to your appointment.
A breathing test (spirometry test) may be performed if appropriate and indicated by your health care provider.
You will receive education on how to manage your Asthma or COPD, and learn strategies to help keep your respiratory condition under control. This may include inhaler techniques, basic information about your condition, breathing techniques, action plan use, prevention of flare-ups and smoking cessation.
You may receive recommendations and ongoing follow-up.
You may receive educational pamphlets so you can remind yourself of what you learned.
Asthma
Is your Asthma well controlled?
Do you need your reliever inhaler (usually blue puffer) more than 3 times a week?
Do you experience symptoms such as: wheeze, cough, shortness of breath and/ or chest tightness more than 3 days a week?
Does your Asthma limit your ability to exercise or play sports?
Do you have night-time symptoms once a week or more?
Do you miss school or work because of your Asthma?
If you answered YES to any one of these questions, your Asthma may not be well controlled. Please speak to your health care provider about your Asthma.
COPD (Chronic Obstructive Pulmonary Disease)
If you are over 40 and smoke, or used to smoke, you are at risk of COPD. Take this quick test to screen for its symptoms:
Do you cough regularly?
Do you cough up phlegm regularly?
Do even simple chores make you breathless?
Do you wheeze at night or when you exert yourself?
Do you get frequent colds that last longer than other people's?
If you answered YES to any of these questions, you should tell your health care provider. You might be at risk of COPD. Please ask your health care provider for further questions.
Smoking Cessation
Please refer to our Smoking Cessation Program page
Resources
BreathWorks Helpline 1-888-344-LUNG (5864)
How do I Register for the Lung Health Program?
If you are a patient with the Toronto Western Family Health Team and interested in this program, ask your health care provider to refer you.