Workshop details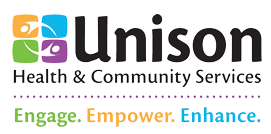 Unison Health & Community Services
Unison Health and Community Services is one of our external partners. They provide programs and services to people of all ages, cultures and backgrounds. Their services are free, confidential and non-judgemental.
Unison vision: Healthy communities.
Unison mission: Working together to deliver accessible and high quality health and community services that are integrated, respond to needs, build on strengths and inspire change.

Diabetes Education Program
The Unison Diabetes Education Program provides FREE individual counselling and group education classes for people with Type 2 diabetes and pre-diabetes. Their team consists of Diabetes Educators including Registered Nurses and Registered Dietitians who can help clients understand how to manage or prevent diabetes.
To see the fall 2023 schedule of Diabetes Group Education Workshops, click here.

Upcoming Diabetes Workshops
All Unison workshops are FREE of charge. See below for registration details.
---
Healthier You (Summer/Fall 2023 in-person)
Mondays starting August 14th to November 13th, 2023 from 10:00 - 11:45am
Click here for more information!
---
Healthier You (Virtual Program)
Tuesdays starting September 19th, 2023 from 6:30 - 8:00 pm
To register call 416-787-1661 ext 3303 or email info.DEP@unisonhcs.org
---
Additional Resources
There are many resources on diabetes available. The following are websites that will provide more information about diabetes:
Canadian Diabetes Association Patient Resources


If you are interested in joining this Workshop Call 416 787 1661 ext. 3303