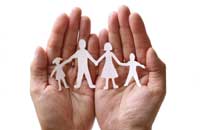 Workshop details
Ideally, having children should be a rewarding experience, but it often ends up with us feeling upset or frustrated. Join us for an interactive session on how to set reasonable expectations for yourself and your kids, and learn how to enjoy life together as a family.
In this Workshop, participants will learn:
How you can create optimal environments for your kids (2-18 years) AND yourself (as a parent).

Using kindness and understanding when dealing with challenging behaviours.

Timeouts for everyone: A powerful tool for managing upsetting emotions for both kids and their parents.
Additional Resources
Healthy Parenting
https://www.toronto.ca/community-people/children-parenting/pregnancy-and-parenting/parenting/
Caring for Kids
https://caringforkids.cps.ca
Rourke Resources for Parents
https://www.rourkebabyrecord.ca/rbr2020/parents/


Online registration - sorry, nothing available at this time