After the Birth of Your Baby
Back to the Obstetrical Care Program​​​​​​​​​​​​​​​​
Immediately after birth
In the first few hours after the birth
After 24 hours
Before yo​u go home
​​
​Immediately after birth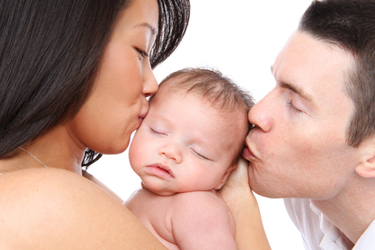 Right after your baby ​is born, we put your baby on your chest. We dry the baby off, and cover him or her with warm blankets. We usually wait one or two minutes before cutting the umbilical cord (which you or your partner can do under our guidance). Some parents like to start breastfeeding right away, and others just hold their infants at first.
If your baby needs help to breathe after ​birth, the RT or respiratory therapist, will take your baby to a special bassinet close to your bed. The RT will often administer oxygen by mask, and may suction the fluids from your baby's mouth and airway. ​
In the first few hours after the birth
---
Vitamin K injection
Vitamin K is given as an injection into your baby's leg within the first few hours after birth. This helps to prevent life-threatening bleeding in your ​newborn baby, called "Hemorrhagic disease of the newborn". Although this disease is rare, it can lead to bleeding in the belly or brain. The injection of Vitamin K is safe for your baby, and dramatically reduces the chance that your baby will have a serious bleeding problem.
Routine administration of vitamin K to newborns
Antibiotic ointment into baby's eyes
Eye infections occur in about 1-12% of all newborn infants. Some eye infections can cause permanent visual loss. Therefore, newborns receive an antibiotic ointment, called erythromycin, shortly after birth.
Recommendations for the prevention of neonatal ophthalmia
Newborn physical examination
After your baby's birth, the baby will be examined from "head to toe" by the family doctor. This will be done in the delivery room in your presence. The purpose of the exam is to ensure that your baby is healthy.
Feeding your baby
Breastfeeding is a healthy and normal way for you to feed your baby. There are only a few circumstances where we would recommend that a woman should not breastfeed. The World Health Organization, Mount Sinai Hospital and your family doctors all support breastfeeding as the best way to feed your baby.
There are many breastfeeding resources​ for you and your family. Please let us know if you are having trouble breastfeeding so we can help.
There are two breastfeeding classes every day at Mount Sinai hospital. You can attend as many as you like.
If you are bottle feeding your baby, there are many types of formulas you can choose. Make sure the one that you choose is iron fortified.
For more information on feeding your baby, please see:
After 24 hours
---
Newborn screening
Most children are born healthy. However, some may have potentially life-threatening diseases. These diseases, if detected and treated early, may prevent serious problems for an affected child. Therefore, every child in Ontario is screened for 28 different diseases. The test will be performed before your child is discharged from hospital. The test is done by taking a blood sample by pricking the baby's heel.
Test for newborn jaundice
Many newborn babies have jaundice. Most jaundice is mild, does not lead to any problems, and does not require treatment. Rarely, jaundice may be life-threatening or cause permanent brain damage. If required, the treatment for jaundice is usually light therapy done in the baby's bassinet in your hospital room.
Every child is tested for newborn jaundice with a bilirubin test. The bilirubin test is done by taking a blood sample by pricking the baby's heel. This will be done at the same time as the newborn screening test (described above).
Caring for Kids - Jaundice in Newborns
Hearing test
Every baby has a hearing test before they are discharged from hospital. The hearing test is done in your room, by an audiologist. The hearing test is done by putting a small microphone into your baby's ear which makes a sound. The echo that comes back is sent to a portable computer. The computer can tell whether the baby heard the sound. The test takes 10 to 15 minutes. The audiologist will give you a piece of paper telling you whether or not your baby "passed" the test, or whether he/she needs further testing.
Please bring that piece of paper with you to your child's first doctor's appointment.
Caring for Kids - Your Baby's Hearing​
Before yo​u go home
---
Car Seat Safety
The car seat is very important to protect your baby in the event of a car collision. New data has shown that most car seats are not installed properly, even though parents have followed the directions that come with the car seat.
It is very important that you get the installation of your car seat checked by a professional. Information about FREE child car seat clinics is available at:
There are also businesses that will install your car seat for a fee (around $40.00- $50.00):
Health card, birth certificate etc..​​​​
Mount Sinai Hospital has a discharge planning seminar every day on the post-partum floor. They will tell you how to get your baby his/her health card and other official government documents.
Follow up appointment with your baby's doctor
It is important to see your doctor within 2 days of going home from the hospital. If your baby's family doctor is at the Toronto Western Hospital, please ask about our newborn home visit. The Toronto Western Hospital also has Saturday morning clinics, if you are discharged home on Thursday or Friday.​