We are accepting new patients. To be eligible, you must meet the following criteria:
We are only accepting applications from those who do not have a regular family doctor. To confirm this, you will need to register with Health Care Connect prior to submitting your application.
You live within a TW FHT site's catchment area (please see map below)

You are insured for care in Ontario

How do I join?
1. Register with Heath Care Connect:
2. Complete the on-line application form by clicking here.

What happens after I submit my application to join the TW FHT?
Your application will be reviewed, and we will confirm with Health Care Connect that you do not have an existing primary care provider. Within 3 weeks of your application date, you will receive an email confirmation from TW FHT.
Wait times vary depending on the availability of the providers and can be up to 12 months. The waitlist is processed in order of application date.
When your application is at the top of the waitlist, you will receive an email with the following information:
the name of your new primary care provider (PCP)*

important information about our clinic

instructions on booking your new patient appointment.
*A Primary Care Provider (PCP) is a health professional that a person sees or talks to when they need care or advice about their health. At the TW FHT, your PCP may be a physician, nurse practitioner or a medical resident. Your PCP is usually your first point of contact for any health issue.
See our catchment area in the map below.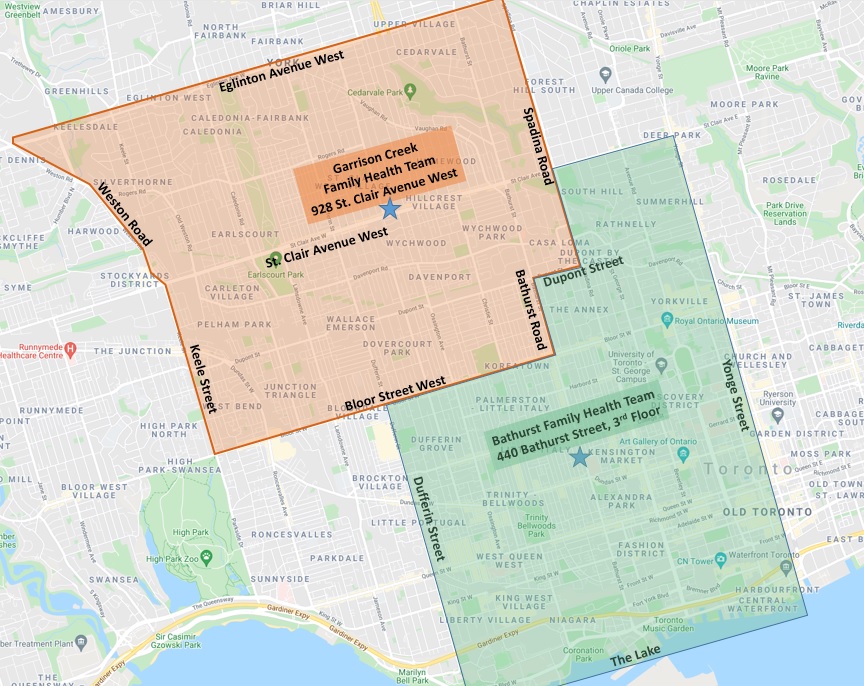 If you live outside of these catchment areas, please contact Health Care Connect at 1-800-445-1822 or visit https://www.ontario.ca/page/find-family-doctor-or-nurse-practitioner