Smoking, Drugs and Alcohol During Pregnancy
Back to the Obstetrical Care Program
Alcohol
Cigarette smoking and marijuana
Street drugs
Medication in pregnancy
Motherisk
Alcohol
---
There no safe amount of alcohol consumption during pregnancy. Therefore, pregnant women should avoid alcohol. Drinking a small amount of alcohol before you know that you are pregnant is very unlikely to cause harm to your baby. However, drinking alcohol on a regular basis during pregnancy can cause permanent damage to your baby.
If you have a drinking problem, please talk to your doctor. There is help available for women who want to quit at Motherisk .
Cigarette Smoking and Marijuana
---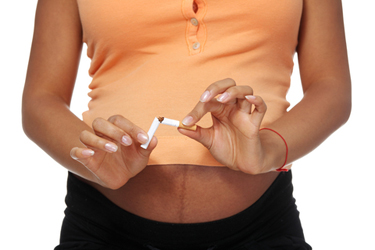 Smoking cigarettes during pregnancy is not healthy for mom or baby. It is best to stop smoking before pregnancy, but cutting down or stopping at any time can help too.
Cigarettes can increase health risks for the unborn baby and mom:
Lower than average birth weight.
Increased chance of miscarriage.
Increased chance of premature birth.
Increased chance of stillbirth.
Newborns and children are also affected by parental cigarette smoking:
Increased risk of Sudden Infant Death Syndrome (SIDS)
Increased risk of asthma
Increased chance of difficulty with reading, math and other related skills
There is a lot of help for pregnant women who want to quit smoking:
Street Drugs
---
Street drugs, like cocaine and heroin, are not safe during pregnancy. Please let your doctor know if you have ever taken these drugs during pregnancy. They want to help you quit.
Medication in Pregnancy
---
There are medications that are safe in pregnancy, and those that may cause harm to the unborn child. Please talk to your doctor about any medications you are taking or plan to take during your pregnancy. Make sure you tell your health provider you are pregnant before they prescribe a medication.
Certain over -the-counter and herbal/naturopathic medications can also harm the fetus. Please remember to check with your health care provider about these medications as well.
Pharmacists are also a great resource for information on safety of medications during pregnancy. If you are a TWH patient, you can book an appointment with one of our pharmacists to discuss any concerns you have about medications during pregnancy.